THE ORIGINAL "RATTLESNAKE JACK"
John M. "Rattlesnake Jack" Robson was a real-life character in western Canada of the 1870's and '80's. My previous information (gleaned from a publication about the Rocky Mountain Rangers) was to the effect that prior to the 1885 Rebellion, Robson had served as a scout for the North West Mounted Police, although there is a period photograph showing him dressed in a NWMP uniform (above left).
This image was taken around 1878 at Fort Walsh in the Cypress Hills (about 65 miles southeast of the present site of Medicine Hat.) The image is labelled "John M. Robson, Q.M.S." [i.e. likely Quarter Master Sergeant] but no rank insignia is visible on his uniform. My earlier information was that there was no official record of his enrollment as an enlisted member of the force, but late in 2006 I made the discovery that he actually did serve as a Constable from 17 June 1878 through 18 June 1880, and was apparently disharged at his own request (after such early discharge became possible in April of 1880).
Reproduced here are the only documents in the NWMP file of John M. Robson. (I have produced facsimiles of the first two documents because the microfiche copy of the original is very difficult to read, particularly since they are largely handwritten, and thus rather difficult to decipheranyway ....).
First, a facsimile of the medical examination certificate completed upon his application for enlistment -
Next, a facsimile of the record of a "Proceeding of a Board of Officers" held at Fort Walsh to receive and approve Robson's application for early discharge. (The original record was entirely handwritten. It is interesting to note that one of the Board members was Inspector Francis J. Dickens, a son of the famous English novelist Charles Dickens. Note also the endorsement in the lower left margin: "Claim allowed", over the initials of NWMP Commissioner James F. Macleod).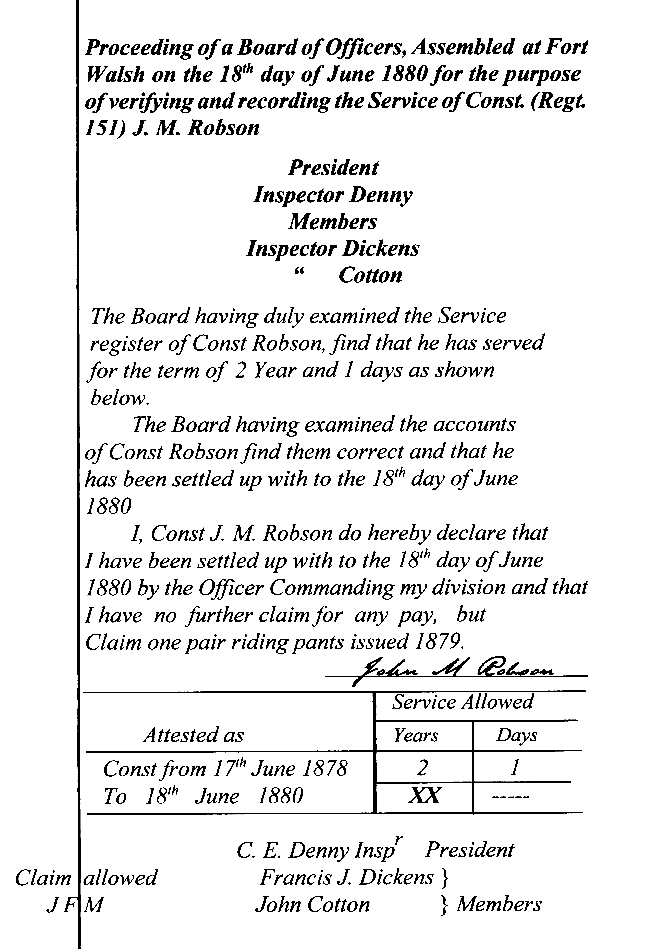 Finally, the actual "File Copy" of Robson's Discharge Certificate, dated 2 1/2 months later at Fort Walsh, over the signature of Commissioner Macleod. The vertical overprinted notation reads: "This Discharge does not entitle the person named therein to a Free Grant of Land", presumably because it was a discharge at Robson's own request before serving his full term of enlistment.
Official records of the Department of Militia and Defence (including Pay Lists) confirm that John M. Robson was enrolled as a Scout with the Rocky Mountain Rangers for the duration of the 1885 Rebellion. A second photo (above right) (dating from approximately 1886), shows him proudly wearing his North West Canada 1885 Campaign Medal.
[I possess an original North West Canada medal, and a good quality reproduction medal which I occasionally wear when re-enacting Rattlesnake Jack "dressed up". NOTE: the handwritten caption on this photo is meant to indicate that Robson had scouted for the NWMP at Fort Walsh as early as 1876, and does not date this photo to that year, since he could not have received his medal until late 1885, at the earliest.] Both pictures are in the collection of the Old Timers' Museum at Maple Creek, Saskatchewan.
His service during the Rebellion did entitle Robson to a grant of 320 acres of land in Manitoba or the North West Territories.
Here is Land Warrant No. 02520, in the name of "Scout John M. Robson, No. 1 Troop Rocky Mountain Rangers."
John M. Robson was apparently also referred to in some records as Recruiting Officer for the Rocky Mountain Rangers after their arrival at Medicine Hat. That, and his position as a Scout, would certainly indicate that he was fairly familiar with - and well-known among - the class of men from which the Rangers were drawn, and also that he had a more than passing knowledge of the geographical area of present-day southern Alberta and south-western Saskatchewan.
Two other men with the surname Robson were enrolled as Troopers in No. 1 Troop of the RMR: Albert W. Robson (Regt. #26) and Henry B. Robson (Regt. #27.) Their relatively low, sequential Regimental numbers would suggest that they enlisted fairly early and at the same time, so they were very likely related to each other, perhaps brothers, and quite possibly may also have been related in some way to Rattlesnake Jack, but no records regarding this have been found. [I also note that the names of all three of these men are entered in the roster of the Rocky Mountain Rangers the same way: i.e. with full first name and only an initial for the middle name. This is a relatively uncommon combination in the list (most men being identified by only one given name, an initial, or other combinations.) To my mind, each Robson man identifying himself the same way suggests a family connection.]
Beyond these tantalizing but foggy glimpses of Rattlesnake Jack Robson, little more is known of the man, with the exception of a couple of strong hints that he was no saint, or at the very least no teetotaler. There was an Ordnance prohibiting distilled liquor for other than medicinal purposes in the Territories at that time, under which Robson was convicted of possessing intoxicating liquor at Fort MacLeod in 1885 after the Rocky Mountain Ranger disbandment, with the result that he was fined the sum of $50.00 and Court Costs, and an order was issued for the destruction of the liquor. He apparently remained unrepentant, however, since the Battleford N.W.M.P reports show that he was again penalized in March of 1888 for selling intoxicating liquor. (Of course, those were just the times he was caught and charged: likely not an easy task in a sparsely settled hinterland where very few were in sympathy with the prohibition laws, including most of the rank and file of the Mounted Police, as well as many of the Native inhabitants, for whose protection from the evils of strong drink the law was intended to provide.)
*The chorus of an NWMP barracks-room ditty of the day
(and unofficial "theme song" of the Mounted Police) was:
"Then pass the tea, and let us drink,
We guardians of the land,
You bet your life it's not our fault
That whiskey's contraband."
Change the music?)
LEFT CLICK ON ONE OF THE SONGTITLES LISTED IN THE PLAYER FOR BACKGROUND RAGTIME MUSIC!
(The music should keep playing as long as you are here. Hit the "pause" button to stop the current song playing.
Click another song and click the "play" button to select another tune.)
NOTE: THESE RAGTIME TUNES ARE PRESENTED COURTESY OF

http://www.johnroachemusic.com/